Western Europe Since 1945 DSST
A Free Study Guide!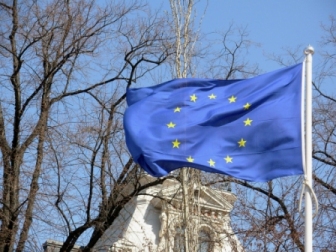 Name of Exam: Western Europe Since 1945 DSST
Number of Questions: Around 103 (varies)
Time Limit: 120 Minutes
ACE Recommended Passing Score: 400
Cost: $80 + Sitting Fee (Usually no more than $20) at your testing site. Military can take DSSTs for free with Tuition Assistance. Check with your Educational Officer!
Difficulty 1-5 : 4
(One being the easiest, and five being the hardest)
Exam Description:
The Western Europe Since 1945 DSST covers the material normally learned in a Modern European History class. You will be tested on your general knowledge of the European Union, political parties of it's members, and the affects of the Cold War on modern Europe.
Personal Thoughts:
The general consensus on this exam is that it ranks between the Civil War and Reconstruction DSST and the Introduction to the Modern Middle East DSST in terms of difficulty.
The largest challenge with this exam is the material itself followed closely by the sheer amount of it. Much of this deals with a history not familiar to your average American. While the events immediately following the second World War is covered in most high school history classes, the level of detail called for here is something that we just do see. Be prepared to understand how each political process works in the European countries, how they decided upon those processes and how they influence the economies of those countries.
If you're thinking to yourself "Why did I take this exam again?" then that's not a bad question. There are easier exams out there and I highly suggest you look at some other DSST and CLEP's if you don't absolutely have to take this particular exam. If you do have to take it then keep on reading..
Exam breakdown:
Make sure you check out the Official Fact Sheet for this exam.
The Western Europe Since 1945 DSST is broken down as follows:
| | |
| --- | --- |
| 35% | National Political Systems |
| 25% | Issues and Policies |
| 20% | European Institutions and Processes |
| 15% | Historical Background |
| 05% | Europe's relations with the rest of the world |
Areas of Study
Alright, here we go. Though there are different versions of the Western Europe Since 1945 DSST, you'll most likely see some of the following on your exam:
Political Movements
Social Policies
The end of the Cold War
Politics of Identity
Economic Affairs
Treaty of Rome
Charles de Gaulle
Electoral Systems and Outcomes
Federalism
This is not a comprehensive list of topics! I highly recommend (as always) signing up for InstantCert and running through their entire flashcard series as well as seeing the Specific Feedback section for this exam. They've had years to accumulate their information, and it shows.
Recommended Free Study Resources
Recommended bargain-priced study resources
*IMPORTANT!* - The Western Europe Since 1945 DSST has a ton of Prometric recommended materials. If you think about the content covered (economic, political and sociological history of multiple countries stretching over 60 years), it shouldn't come as a surprise that this is the case. I'm only going to list a few of those here. My suggestion would be to print off the Official Fact Sheet and bring it to the library. Use it to find the books there and save yourself some money!
Western Europe Since 1945: A Political History
- This is one of the DSST recommended books for this exam. Make sure you look at the Fact Sheet and find as many of these as you can at the library before spending money on them.
An Economic and Social History of Western Europe Since 1945
- Not one of the suggested books, but it seems to cover much of what's in the test. Less than $10 at the time of this writing.
InstantCert Academy Western Europe Since 1945 Exam Feedback - Tons of good info here and with the Western Europe Since 1945 Flashcards is probably one of the best resources found in this study guide. The downside is it isn't free.
If you don't know what InstantCert is, then click here for the scoop as well as a discount code: **InstantCert Academy**
You'll find an InstantCert link for every exam here if that gives you an idea of the amount of information they have available. It's an outstanding resource.
Closing Thoughts
I'm not happy with this study guide, but there isn't much I can do about it. I've spent the last two weeks looking all over the Internet for a single "silver bullet" free study resource for the Western Europe Since 1945 DSST and haven't even come close to finding one. There is just so much information being asked for in this exam that it's hard to find one place that has it all. As mentioned earlier, I'd suggest you use InstantCert if you just absolutely, positively have to take this exam. If you don't, then I'd go with some (any) other exam instead.
If you find a great (free) resource for this exam, please let me know about it! I'll add it to the above and it could help everyone.
Best of luck!
Return from Western Europe Since 1945 DSST to
the DANTES Exams Page
Or, you can head back to the home page with the below link
Return from Western Europe Since 1945 DSST to
the Free Clep Prep Home Page