Credits through StraighterLine
Before we even get started with earning credits through StraighterLine, I want to hammer something home - You always, always, always need to check with your school to see if they'll accept these credits BEFORE you attempt them. Not doing so will only waste your time and money, and we don't want that!
What is StraighterLine?
Simply put, StraighterLine is an alternative to CLEP and DSST credits. StraighterLine provides affordable, high-quality online college courses and guarantees full credit for approved courses transferred to any of their 60+ Partner Colleges. StraighterLine courses also fit into degree programs at over 2,000 colleges and universities who consider ACE CREDIT recommendations for transfer.
For some subjects, earning credits through StraighterLine is a better choice than exams. For example, StraighterLine's Accounting I and Accounting II classes are viable alternatives to the CLEP and DSST Financial Accounting exams. You can even take Managerial Accounting at StraighterLine too, a class that you can't test for anymore with CLEP and DSST. If you're worried about attempting the Micro and Macroeconomics CLEP exams, StraighterLine provides an alternative to those as well.
How does StraighterLine work?
It's actually a pretty ingenious system. The courses are all online, so you work whenever you have the time. Each course has multimedia modules that walk you through each subject.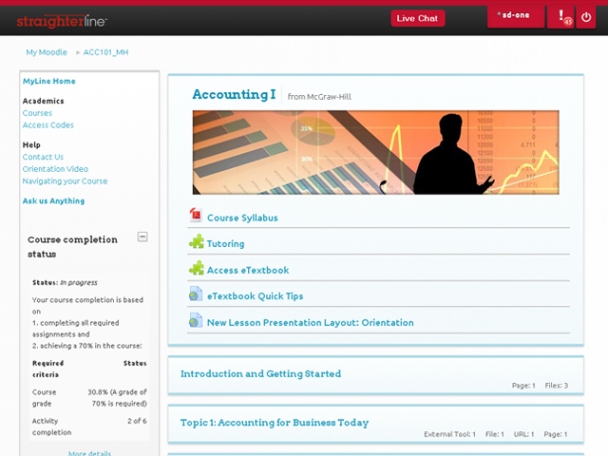 You're then tested periodically throughout the course with quizzes and exams. You are graded on those quiz's and exams, and at the end of your course - you're provided with a final grade that determines whether you're elibgible to be awarded credit or not. Usually it's anything over 70% total, though they do have a course or two that's higher (75% I think?)

How much does StraighterLine cost?
There are three options:
The first is a $99/month StraighterLine Membership. For that $99, you can take as many courses as you want for as low as $49. So you're looking at a total of around $148 for a month of one course.
What I did (and plenty of others have done the same) was sign up for the $99 option, sign up for the course, immediately cancel my monthly subscription, and then get busy finishing that course in one month. It's absolutely possible as long as you dedicate the time to it. One of the InstantCert forum regulars has a son who took (and passed) four courses in one month. Now that's motivation!
The second option is to build a custom course bundle for $496. This gets you 3 courses, all proctoring session, student advisor support, up to 10 hours of tutoring – and a 4 Month subscription. The course bundle adds up to a $15% savings off single course pricing and is a great deal if you're just getting started, but only need a few courses.
The third is enrolling in StraighterLine's Full Year program for $1299. This gets you 10 courses, all proctoring sessions, tutoring, student advisor support – and a 12 Month Membership. This adds up to a 25% savings off regular price. Beyond the savings, let's take another look at this package - You get a full year of college (30 credits!) for less than $1500. This is simply amazing in terms of cost savings. It's virtually the same price that 10 CLEP/DSSTs would cost for the same amount of credits, but you also get the tutoring, student advisor support and proctoring sessions. This is my new favorite credit method for people who prefer a more structured approach than CLEPs and DSSTs provide.
What courses do they offer?
StraighterLine actually offers quite a few courses, all of which reviewed and recommended for credit by ACE. If you're looking to earn credits through StraighterLine in order to transfer them to another school, you're in luck.
At the time of this writing, the ACE credit recommended and reviewed courses are:
Social Sciences
Macroeconomics
Microeconomics
English Composition I
English Composition II
Business Communications
American Government
Cultural Anthropology
Introduction to Criminal Justice
Introduction to Psychology
Introduction to Religion
Introduction to Sociology
Personal Fitness & Wellness
United States History I
United States History II
Western Civilization I
Western Civilization II
Humanities:
Introduction to Communications
Introduction to Philosophy
Personal Finance
Math:
College Algebra
Accounting I
Accounting II
Managerial Accounting
Business Statistics
Introduction to Statistics
Pre-Calculus
General Calculus I
Calculus II
Sciences:
Introduction to Biology
Introduction to Biology Lab
Microbiology
Microbiology with Lab
General Chemistry I
General Chemistry I Lab
Anatomy and Physiology I
Anatomy and Physiology I with Lab
Anatomy and Physiology II
Anatomy and Physiology II with Lab
General Physics I
General Physics I with Lab
General Physics II
General Physics II with Lab
Introduction to Environmental Science
Introduction to Nutrition
Business
Accounting I
Accounting II
Business Communications
Business Ethics
Business Law
Business Statistics
Introduction to Business
Managerial Accounting
Organizational Behavior
Principles of Management
Personal Finance
Languages
Technology
Introduction to Programming in C++
Introduction to Programming in Java
Be sure to check with your school where the above credits earned through StraighterLine courses will count towards your degree. The above breakdown is just to make them easier to read.
In case you want to check for updates (or if your school requires proof that they're reviewed and recommended by ACE) you can point them here - ACE College Credit Recommendation Service
How do I get my credits afterwards?
This is where it gets interesting. StraighterLine has relationships with over 60+ partner colleges. Right now, their most popular partner colleges are:
Western Governors University
Strayer University
Excelsior College
Thomas Edison State College
Concordia University
Capella University
Liberty University
Kaplan University
Charter Oak State College
Ashford University
University of Phoenix
If you're already enrolled at one of StraighterLine's partner colleges, it's easy. To get your credits through StraighterLine, just ask a StraighterLine Advisor to send your transcript to your college when you've completed a course.
If you're enrolled in another school, you'll need to do a few extra steps. First of all, I'd suggest talking to StraighterLine about your plans. Let a Student Advisor know what college you're looking to transfer to, and they'll be able to tell you the cheapest and fastest way to make it happen.
Each of StraighterLine's partner colleges have different requirements to transfer credits – but all are backed by the StraighterLine Credit Transfer Guarantee.
Summary
In terms of price, it's hard to beat the CLEP and DSST exams. After all, that's why we like them so much! However, if those aren't an option then credits through Straighterline is probably your best bet. It's hard to beat the value for what you're getting.
Either way, I'll caution you again - check with your school, StraighterLine and the partner school to make sure everything will transfer the way you expect BEFORE signing up. The question to ask your school is, "Will you accept credits from *insert partner school here* to fill *whatever* requirement?" If they say yes, then you're on your way!
Another tip - While taking a StraighterLine math course, give the MathWay Tool a try. It's free to use as long as you don't need to see the explanations and is a great way to check your answers.
If you have any other questions about earning credits through StraighterLine, or how it will work for your particular school, run a search in the InstantCert forums. Chances are good that someone has asked the same question and has already gotten an answer. Be sure to give StraighterLine a call. They know their stuff inside and out, are a friendly bunch and have always been willing to help me out.
Go get those credits!
Return from Credits Through StraighterLine to
the Free-Clep-Prep Home Page