Instant Cert Academy Information
and Discount Code
What is it?
Instant Cert Academy (IC for short) is actually two resources in one. The first portion offers flashcards for the majority of the CLEP, DANTES, and ECE exams. These flashcards cover each of the exam areas for study. The cards are in a fill-in-the-blank format with the answer and explanation only a click away. Usually a few times through the IC flashcards are enough to give you a firm grounding in the subject matter.

The second portion of Instant Cert Academy is, in my opinion, really where the value's at. The flashcards are great, but there's no substitute for human experience. IC has a bulletin board forum where testers just like you and me spend all day, every day talking about online learning, different colleges, and of course CLEPs, DANTES, and ECE exams. Even better, they have a forum called "Specific Exam Feedback". In this forum, each exam has it's own thread (message).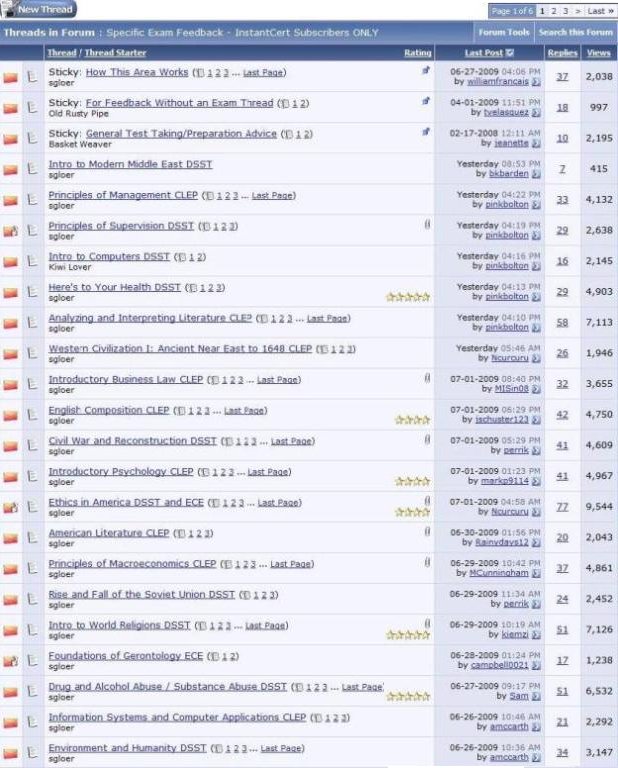 Think of this forum as 100%-pure, targeted study. Nothing goes into this forum that doesn't help other people pass that specific exam. Every time someone takes the exam, they come back to this thread and report on how they did, what they used to study, and the specific subjects that they were tested on. There shouldn't be an exam out there that you cannot pass if you follow the advice found in these threads.
The cost of $19.95 is negligible if you're planning on taking more than one CLEP, DANTES, or ECE exam. If you use the discount code 78817 you get 25% off the first month. (Bringing the price down to $15) Considering most of the study guides for CLEP's and DSST's are $35-$45 for a single exam, it's not hard to see why I love this site so much.
If this is the type of targeted study you've been looking for, then you can sign up here: Instant Cert Sign up with 25% off the first month
It doesn't cost anything to read the main forums, so go ahead and look around. However, you MUST register to see the "Exam Specific" forum. You won't even see it listed if you're just cruising as a guest. Once you register you'll be able to see the forum, but can't read anything in it until you subscribe.
There was a time when this forum was open for everyone to read, but the Admins recently locked it down to subscribed members only. I can't really blame them. They do an outstanding job keeping only great information in each thread, and they delete anything that doesn't add to the studying experience of the reader.
You can find the main forums here: **Instant Cert Online Forums**
Once you've registered, you'll be able to see the "Exam Specific" forum, though you'll need to subscribe to get access.
Is it worth it?
Like so much else in life - It depends! If you're only planning on taking one exam, then probably not. A little extra effort on the other study material could probably see you through. If you plan on taking more than one exam then that's where the Instant Cert Academy value becomes apparent.
Cruise around a bit with a free account before you decide whether to subscribe. It's a great community that's full of people who love to help. I've been a member for almost two years now, and I still enjoy it for the useful information on graduate degrees.
You can read more about the Instant Cert Academy at the below link. Don't forget the discount code to get 25% off your first month! Discount Code - 78817
Instant Cert Academy - Prepare for CLEP exams in just days!
Hope to see you on the forums soon!
-Justin
Return from Instant Cert Academy to
the Free Clep Prep Home Page