The Big Three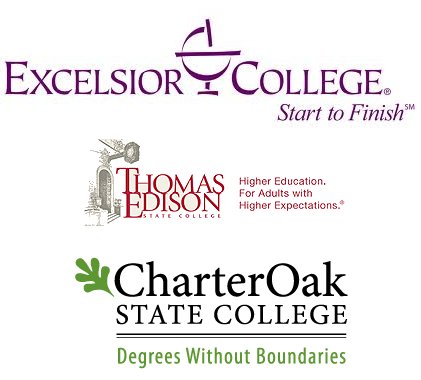 In the test-for-credit world, the Big Three refers to Excelsior College, Thomas Edison State College and Charter Oak State College.
These three, regionally-accredited schools have no limit on the amount of credit by testing they accept. This is a pretty big deal! Most schools severely limit the amount of CLEP, DSST and other testing credit that they'll apply to your degree. The more generous among them will allow up to 30 credits, but most will only take 9 to 12 credits. If you want any other credit from these schools, you'll need to take a class.
The Big Three, on the other hand, don't care where the credit comes from, as long as it's been evaluated by the American Council on Education (ACE). CLEP Exams, DSST's, StraighterLine, ALEKS Math Courses, and FEMA Courses are all accepted, as is coursework from other regionally accredited schools with a little administrative hoop jumping.
**Note - As always, a healthy dose of "check with your advisor" must be administered here. Just because they accept the credits doesn't mean it will necessarily apply to your chosen degree.**
Here's a brief breakdown of the three schools. If you click on their names, you'll be taken to the websites for each school.
An asterisk "*" by the Yes/No means that the school may have something similar, but the diploma will not say what's listed here. For example, all Charter Oak degrees are actually in "General Studies", but they do have concentrations (for the bachelor degrees) that loosely match many of the programs listed.
The Big Three Breakdown
Excelsior College
Thomas Edison State College
Charter Oak State College
Associate Degrees Awarded
Business
Yes
Yes
No*
Technology/Science
Yes
Yes
No*
Liberal Arts
Yes
Yes
No*
Natural Sciences/Mathematics
No
Yes
No*
Nursing
Yes
No
No*
Human Services
No
Yes
No*
Bachelor Degrees Awarded
Business
Yes
Yes
Yes*
Technology/Sciences
Yes
Yes
Yes*
Liberal Arts
Yes
Yes
No
Human Services
No
Yes
No
Health Sciences
Yes
Yes
Yes*
Nursing
Yes
Yes
No
Organizational Leadership
No
Yes
Yes*
Graduate Degrees Awarded
Business/Management
Yes
Yes
No
Technology/Sciences
Yes
Yes
No
Liberal Arts
Yes
Yes
No
Human Resource Management
No
Yes
No
Education
Yes*
Yes
No
Nursing
Yes
Yes
No
Miscellaneous Info
Accepts Direct Transfer from StraighterLine?
Yes
Yes
Yes
Accepts Direct Transfer of FEMA Courses?
No
Yes
No
Application Fee (2012 - 2013)
$80
$75
$75
Non-Resident First Year Enrollment Costs (2012 - 2013)
$1,015*
$2,958
$684
Graduation Costs (2012 - 2013)
$495
$280
$205



*Excelsior students will also be required to pay a $440 annual "Student Service Fee" in addition to the First Year Enrollment Cost.

**Note** Other fees may apply for all schools. See the website for each school to get a more accurate estimate of total costs.
As always, a few qualifiers - This information on the Big Three is accurate based on what I've been able to find at the time of this writing. You should always approach this with a grain of salt until you talk to a student advisor at each school. Then take what they say with two grains of salt until you talk to another advisor and get it in writing! :P
Just to cover my proverbial backside since I'm including their logos above; I want to make it clear that none of these schools are affiliated with or endorse this website. The Big Three are popular with credit-by-exam students and for good reason. The goal of this page is to educate people about the degree programs they offer and nothing more.
Hope this helps!
-Justin