Money and Banking DSST
A Free Study Guide!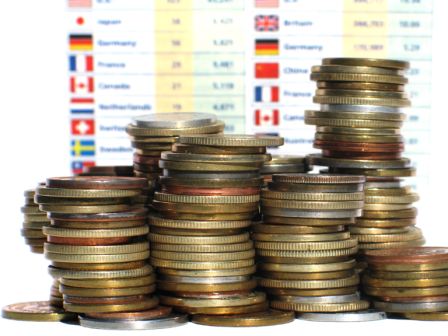 Name of Exam: Money and Banking DSST
Number of Questions: Around 94 (varies)
Time Limit: 120 Minutes
ACE Recommended Passing Score: 48
Practice Test Available?: No
Cost: $80 + Sitting Fee (Usually no more than $20) at your testing site. Military can take DSSTs for free with Tuition Assistance. Check with your Educational Officer!
Difficulty 1-5 : 5
(One being the easiest, and five being the hardest)
Exam Description:
The Money and Banking DSST covers what a student would learn during a single semester of Money and Banking. Specific topics covered include the Federal Reserve and it's influence on the US Economy, Macroeconomic Activity, Commercial Banks, and the International Money System.
Personal Thoughts:
This exam worries me, as should be evident by the difficulty level I've placed it at. Almost everything I've read about the Money and Banking DSST has started with "Omg this is tough!". Now normally I don't put too much stock into doom and gloom forum posts, but this is going to require a little bit of work.
First of all, I'd suggest you start off by taking the Principles of MacroEconomics CLEP and the Principles of MicroEconomics CLEP if you haven't already done so. Most of the material I see on this exam is covered by those as well.
If you've already filled the Macro and Micro requirements for your degree, or if they can't be applied as electives, then I'd still look over the material even if you aren't going to take the exams themselves. Much of the material is the same, and you'll recognize some of it below.
Exam breakdown:
Make sure you check out the Official DSST Fact Sheet for this exam.
Pay attention to the bottom of the fact sheet. It contains some sample questions that closely mimic the type of scenario-based questions you'll see on the actual exam.
The Money and Banking DSST is broken down as follows:
| | |
| --- | --- |
| 31% | Commercial Banks and Other Financial Intermediaries |
| 21% | Money and Macroeconomic Activity |
| 18% | Monetary Policy in the United States |
| 18% | Central Banking and the Federal Reserve System |
| 07% | The International Monetary System |
| 05% | The Role and Kinds of Money |
Areas of Study
I'm going to list some specific topics that you'll need to study.
Though there are different versions of the Money and Banking DSST, you'll most likely see some of the following on your exam:
Federal Reserve
Monetary vs Fiscal Policy
Deposit Deregulation
The Phillips Curve
GDP
Causes and effects of inflation
Bretton Woods
IMF
Assets and Liabilities
Velocity
Keynesian Economics
Hyperinflation
Supply and Demand
Q Regulation
Treasury Bonds
National Bank Act of 1863
FDIC
International Payments
This is not a comprehensive list of topics! I highly recommend (as always) signing up for InstantCert and running through their entire flashcard series as well as seeing the Specific Feedback section for this exam. They've had years to accumulate their information, and it shows.
Recommended Free Study Resources
Recommended bargain-priced study resources
Always check your library first! You may be able to find some of these for free. You don't have to buy the officially recommended resources all the time. If you're the type of person that prefers to study from a textbook source however, then please see below.
Economics of Money, Banking and Financial Markets (9th Edition)
- This is hardly a bargain priced option, but I wanted to list it regardless since it's a DSST recommended textbook. The reason I listed this one versus the others is that the local college uses this as a textbook, and has told me that others do as well. If that's true, then you can probably find one of these for pretty cheap if you have a used college bookstore nearby.
InstantCert Academy Money and Banking Specific Exam Feedback - Four pages of targeted information for this exam. There are a few downloadable study guides here that are truly outstanding. Definitely look at the ones made by Caridan. Great stuff. Also if you've subscribed, make sure you go through the Flashcards for Money and Banking as well.
If you don't know what InstantCert is, then click here for the scoop as well as a discount code: **InstantCert Academy**
You'll find an InstantCert link for every exam here if that gives you an idea of the amount of information they have available. It's an outstanding resource.
Closing Thoughts
I haven't taken the Money and Banking DSST myself, but I think I'm going to do so in the next month or so. I've avoided it thus far due to the sheer amount of scary things I've read about it. That's obviously not a good way to act, and I'm a little embarrassed about that now. Once I've taken it, I'll come back here to give an update on how it went. Look for that in the near future.
I will say that almost all of the posts in the IC Specific Exam forum end on a positive note. Most of them start off by saying "Omg this is tough!" but then it's quickly followed by "I have no idea how I passed!". That usually points to a pretty aggressive grading curve, but a pass is a pass in the CLEP and DSST world.
More to come on this particular exam and if any of you beat me to it, then please let me know how it went.
Best of luck!
Return from Money and Banking DSST to
the DANTES Exams Page
Or, you can head back to the home page with the below link
Return from Money and Banking DSST to
the Free Clep Prep Home Page