Human Cultural Geography DSST
A Free Study Guide!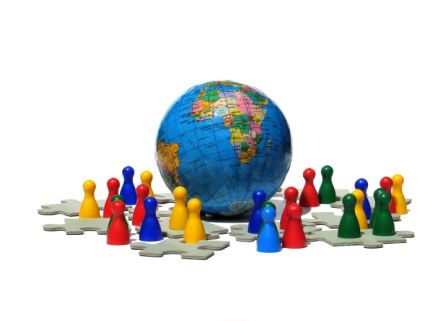 Name of Exam: Human Cultural Geography DSST
Number of Questions: Around 100 (varies)
Time Limit: 120 Minutes
ACE Recommended Passing Score: 48
Practice Test Available?: No
Cost: $80 + Sitting Fee (Usually no more than $20) at your testing site. Military can take DSSTs for free with Tuition Assistance. Check with your Educational Officer!
Difficulty 1-5 : 2
(One being the easiest, and five being the hardest)
Exam Description:
The Human Cultural Geography DSST covers what a student would learn during a single semester of a Cultural Diversity or Human Geography college class.
A few of the specific topics you'll see see are: Cultural Origins, Social Processes, Tectonics and Weather, Urban Settlement, and Geopolitical Regions.
Personal Thoughts:
This is another of the DSST's that isn't too popular. If I had to guess at the reason, it's probably because the Human Cultural Geography DSST is such a niche topic. Unless you absolutely have to take this exam to fill a requirement, there are easier DSST's out there for the same amount of credit.
So who should take this exam? Well, if you're planning on taking the ECE World Population then taking this exam would help prepare you. There is some overlap between the two, and I'm seeing many of the same subjects on the fact sheet that I saw on the World Population ECE.
I feel like a traffic cop, telling people to "Move along, there's nothing to see here", but that's not far from the truth. If you don't have to take this one, then why not try something easier instead? Check out any of the CLEP's or other lower level credit DSST exams. If you do have to take this, then keep on reading.
Exam breakdown:
Make sure you check out the Official DSST Fact Sheet for this exam.
Pay attention to the bottom of the fact sheet. It contains some sample questions that closely mimic the type of scenario-based questions you'll see on the actual exam.
The Human Cultural Geography DSST is broken down as follows:
| | |
| --- | --- |
| 40% | Culture and Environment |
| 32% | Spatial Processes |
| 23% | The Earth - Basic Facts and Concepts |
| 05% | Regional Geography |
Areas of Study
I'm going to list some specific topics that you'll need to study.
Though there are different versions of the Human Cultural Geography DSST, you'll most likely see some of the following on your exam:
Population Growth and Resource Uses
Water
Climate
Core-Periphery
Urbanization
Diffusion
Territories and Boundaries
Soils and Vegetation
Human Spatial Behavior
Agriculture and Extractive Activities
Domestication of Plants and Animals
Imperialism
Belief Systems
Universal Religions
Cartography
Modern Economic Systems
Core-Periphery Model
Recommended Free Study Resources
Recommended bargain-priced study resources
Always check your library first! You may be able to find some of these for free. You don't have to buy the officially recommended resources all the time. If you're the type of person that prefers to study from a textbook source however, then please see below.
The Cultural Landscape: An Introduction to Human Geography (8th Edition)
- One of the suggested textbooks for the Human Cultural Geography DSST. I'm including it here because the companion site was so useful, but the reviews are less than stellar. You can pick up a used copy for cheap. Get it for under $20 and with the companion site it's a good deal. I wouldn't pay full price for a textbook even if it had five stars. Our goal is to save money... right?
Physical Geography: A Landscape Appreciation (9th Edition)
- The other recommended textbook with the companion site listed above. You can pick up a used copy of this one for $40. As always, check your library and local used textbook stores first!
Barron's How to Prepare for the AP Human Geography Advanced Placement Examination
- I'm a fan of using the AP books for CLEP and DSST review, usually because the AP books go into much more detail than is actually needed. When other "targeted" material isn't available, then more is better than less. This is an older version, so you can pick it up for pretty cheap ($6 at the time of this writing).
InstantCert Academy Human Cultural Geography Specific Exam Feedback - Though there's only one page of feedback for the Human Cultural Geography DSST, it covers a lot of information. If this is the only exam you're taking, then I'd pass if you're not already a subscriber. If you plan on taking more that one exam, then I always suggest InstantCert.
If you don't know what InstantCert is, then click here for the scoop as well as a discount code: **InstantCert Academy**
You'll find an InstantCert link for every exam here if that gives you an idea of the amount of information they have available. It's an outstanding resource.
Closing Thoughts
This is one of those DSST's that's just begging for someone to come along and make a better study guide. I think after I'm done with all of the other exams, I'm going to revisit this one and flesh it out some more. There's plenty of knowledge on InstantCert, but I'd like to make it a little easier for people to find the information they need.
Until that day comes, use the above. If you just hit the Fact Sheet and use Wikipedia, then I'd say you stand a pretty good chance of passing. There are people who have passed using just that strategy. That being said, use the resources above and be doubly sure ;)
Best of luck!
Return from Human Cultural Geography DSST to
the DANTES Exams Page
Or, you can head back to the home page with the below link
Return from Human Cultural Geography DSST to
the Free Clep Prep Home Page