Chemistry CLEP
Free Study Guide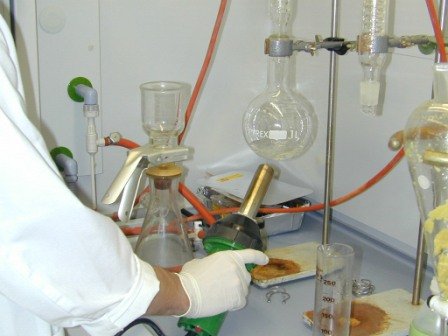 Name of Exam: Chemistry CLEP
Number of Questions: 75
Time Limit: 90 Minutes
ACE Recommended Passing Score: 50
Practice Test Available?: Yes - Click here
Cost: $80 + Sitting Fee (Usually no more than $20) at your testing site. Military can take CLEPs for free with Tuition Assistance. Check with your Educational Officer!
Difficulty 1-5 : 5
(One being the easiest, and five being the hardest)
Exam Description:
The Chemistry CLEP covers the material commonly found in a one year college Chemistry course. You'll be expected to understand reaction types, equilibrium, kinetics, states and structure of matter, stoichiometry and equations..
Important! - Both a calculator and periodic table are available for use with the Chemistry CLEP. These are built into the testing software if you're taking a computer-based test. If you are taking a paper test, you'll need to make sure the testing center knows that you are allowed to use these items.
Personal Thoughts:
I don't see too many people attempting this without a firm grasp of Chemistry. I'll even go so far as to warn you that your high school chemistry knowledge will not get you a passing grade. This is a six credit CLEP exam, and like the other six credit exams covers a full year of college level information.
With that out of the way, the Chemistry CLEP can be passed provided you bring some Chemistry knowledge to the table and dedicate enough time to fill in the knowledge gaps.
Another important point to note - If your degree plan requires a science lab, this will not fulfill that requirement for many colleges. You'll need to speak to your student advisor, but it's something you'll want to check on before you dedicate the time to study.
Exam breakdown:
According to the College Board website, the Chemistry CLEP is broken down as follows:
| | |
| --- | --- |
| 20% | Structure of Matter |
| 19% | States of Matter |
| 14% | Descriptive Chemistry |
| 12% | Reaction Types |
| 10% | Equations and Stoichiometry |
| 09% | Experimental Chemistry (Lab Questions) |
| 07% | Equilibrium |
| 05% | Thermodynamics |
| 04% | Kinetics |
Areas of Study
I'm going to break down the percentages above with the topics that fall under each category. This should allow you to decide what you need help with, and only study those areas in which you feel a little weak. Less wading through masses of resources, and more targeted studying.
Chemistry 30 Online Textbook - One of the best online Chemistry textbooks that I've found for free. If you ever need any more information on one of the below topics, check this one for a more in-depth explanation.
I'd also recommend the The Khan Academy as a video resource for this exam. Covers virtually every subject you'll need in small, excellent video lectures. It has some good videos for studying the Chemistry CLEP as well.
Structure of Matter
(20% of the Chemistry CLEP)
Binding forces
Types:
Nuclear Chemistry:
States of Matter
(19% of the Chemistry CLEP)
Descriptive Chemistry
(14% of the Chemistry CLEP)
You may be asked some lab questions in this section. You'll also be asked to read graphs and the periodic table.
Relationships in the periodic table:
Reaction Types
(12% of the Chemistry CLEP)
Equations and Stoichiometry
(10% of the Chemistry CLEP)
Ionic and molecular species present in chemical systems
Equilibrium
(7% of the Chemistry CLEP)
Quantitative treatment
Thermodynamics
(5% of the Chemistry CLEP)
First law:
Kinetics
(4% of the Chemistry CLEP)
Recommended bargain-priced study resources
Always check your library first! You may be able to find some of these for free. You don't have to buy the officially recommended resources all the time. If you're the type of person that prefers to study from a textbook source however, then please see below.
Cracking the AP Chemistry Exam, 2009 Edition (College Test Preparation)
- My first recommendation for those who already have a firm grasp of Chemistry and just want to brush up. The Chemistry AP prep book covers the Chemistry CLEP better than most other resources, including those written specifically for the CLEP. It's a bit more difficult, but this is an exam where "too much" is better than "not enough". It doesn't hurt that it's only $12 too. ;)
Chemistry: Concepts and Problems: A Self-Teaching Guide (Wiley Self-Teaching Guides)
- If Chemistry isn't your thing and you're looking to learn fast, then this is probably your best bet. My recommendation for the intermediate Chemistry CLEP taker. I'd still consider getting the AP book once you've read through this one. This will lay the groundwork, but the AP book will prepare you for the exam. Provides a good overview in an easy to read format.
Chemistry for Dummies
- This is for the absolute beginner. If time doesn't matter, and you want to take some time to study for the Chemistry CLEP, then I'd start with this book. Once you've read it from cover to cover, you should be able to get through the AP book with little problems. Between the two of them, you'll be prepared for the Chemistry CLEP.
The Standard Deviants - Chemistry (3 Pack)
- Last but not least, the DVD study option. Much like math, I find myself nodding off when I study for science exams. The videos do a decent job of keeping you engaged, and are a good alterative if even the Chemistry for Dummies book is putting you to sleep. I would recommend using the AP book as well once you make it through these DVD's. The book will prepare you for the exam. These videos will prepare you for the book.
InstantCert Academy - Chemistry Exam Feedback - There's only one page worth of notes on this exam, but one post is absolutely packed with good information about what was on his exam. You can find this is in the Specific Exam section of the forums which does require a subscription to Instantcert. I wouldn't subscribe to InstantCert for this exam alone, but if you're already a member or planning to take some more CLEP's then by all means check it out.
Also check out some of the other posts about this exam - Free Chemistry Resources. These are found in the free forum, and contain quite a few good resources to prepare for this exam.
If you don't know what InstantCert is, then click here for the scoop as well as a discount code: **InstantCert Academy**
You'll find an InstantCert link for every exam here if that gives you an idea of the amount of information they have available. It's an outstanding resource.
Closing Thoughts
The Chemistry CLEP has the reputation of being the hardest CLEP there is. Personally, I'd rather take this than the Calculus CLEP, but that's probably due to my hatred of math more than anything else. Regardless of my own preferences, it's a six credit exam so there's six good reasons to take your time and prepare well.
One last time just to drive it home - Make sure you've checked to see whether your college requires a lab to go with this course. If it does require a lab, then you may end up taking this exam for nothing. Most colleges will allow this to fill elective credits if nothing else, but there are easier CLEP exams out there you can use for that. If it is accepted for a Chemistry requirement, then what are you waiting for? Get those credits!
Best of luck!
Return from Chemistry CLEP to
the CLEP Exams Page
Or, you can head back to the home page with the below link
Return from Chemistry CLEP Study Guide to
the Free Clep Prep Home Page