Business Mathematics DSST
A Free Study Guide!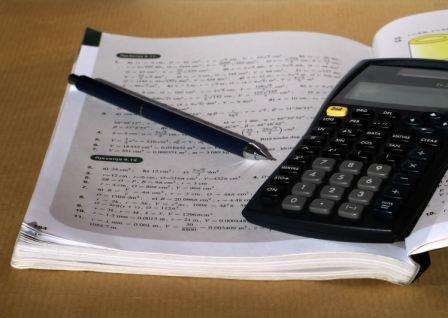 Name of Exam: Business Mathematics DSST
Number of Questions: Around 100 (varies)
Time Limit: 120 Minutes
ACE Recommended Passing Score: 400
Practice Test Available?: Yes, but for the old version
Cost: $80 + Sitting Fee (Usually no more than $20) at your testing site. Military can take DSSTs for free with Tuition Assistance. Check with your Educational Officer!
Difficulty 1-5 : 4
(One being the easiest, and five being the hardest)
Exam Description:
The Business Mathematics DSST covers what a student would learn during a single semester of a Business Math college class.
A few of the specific topics you'll see see are: Unit Conversions, Amortization, Probability Distributions, Quadratic Equations, and Interest calculations..
Personal Thoughts:
The Business Mathematics DSST used to be a pushover. If you had the barest grasp of mathematics (that's me) then you could pass this exam. Unfortunately, those days are over.
In April of 2009, Prometric refreshed the exam and increased the difficulty by a significant order of magnitude. Now the exam consists of Algebra, Statistics, Annuities, Taxes, Interest, and a number of other subjects that you'll need to study before attempting to tackle.
Exam breakdown:
Make sure you check out the Official DSST Fact Sheet for this exam.
Pay attention to the bottom of the fact sheet. It contains some sample questions that closely mimic the type of scenario-based questions you'll see on the actual exam.
The Business Mathematics DSST is broken down as follows:
| | |
| --- | --- |
| 50% | Business Applications |
| 16% | Statistics |
| 15% | Algebraic Concepts |
| 14% | Financial Mathematics |
| 05% | Number Sense |
Areas of Study
I'm going to list some specific topics that you'll need to study.
Though there are different versions of Business Mathematics DSST, you'll most likely see some of the following on your exam:
Installment Purchases
Annuities and present value
Simultaneous linear equations
Unit Conversions
Extrapolation and Interpolation
Break-even analysis (algebraically and graphically)
Quadratic equations and functions
Investment performance measures
Depreciation/salvage value
Weighted Averages
Central Tendency
Cost Minimization/Value Optimization
Percentages, fractions and decimals
Graphing equations and evaluating functions
Promissory Notes and other loans
Dispersion
Annual Percentage Rate
Simultaneous Linear Equations
Effective annual rate
Recommended Free Study Resources
Business Applications
(50% of the Business Mathematics DSST)
Statistics
(16% of the Business Mathematics DSST)
Algebraic Concepts
(15% of the Business Mathematics DSST)
Financial Mathematics
(14% of the Business Mathematics DSST)
Number Sense
(05% of the Business Mathematics DSST)
Recommended bargain-priced study resources
Always check your library first! You may be able to find some of these for free. You don't have to buy the officially recommended resources all the time. If you're the type of person that prefers to study from a textbook source however, then please see below.
Practical Business Math Procedures
- One of the suggested materials from the Official Fact Sheet. They recommend the 9th Edition, but this one is almost $100 cheaper and still seems to be used in classes today.
InstantCert Business Mathematics Specific Exam Thread - There's only one page of feedback for this specific exam, but it has some good resources. The exam refresh point is pretty apparent, because it goes from "Oh this is easy!" to "Oh my God! What happened?!?"
If you don't know what InstantCert is, then click here for the scoop as well as a discount code: **InstantCert Academy**
You'll find an InstantCert link for every exam here if that gives you an idea of the amount of information they have available. It's an outstanding resource.
Closing Thoughts
As with a few other Lower Level exams, I'd think long and hard before going after the Business Mathematics DSST. Most schools don't require it specifically, and there are plenty of other exams that will give you the same Math and Sciences credits for less effort.
If math is your thing, then go for it. If your school doesn't require this, I'd look elsewhere. Of course, that may just be my ingrained hatred of math talking....
Best of luck!
Return from Business Mathematics DSST to
the DANTES Exams Page
Or, you can head back to the home page with the below link
Return from Business Mathematics DSST to
the Free Clep Prep Home Page