The Art of the Western World DSST
A Free Study Guide!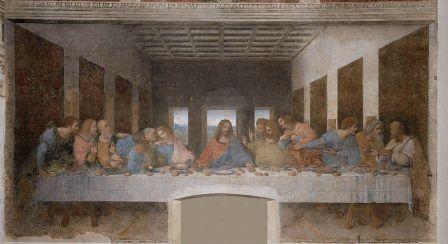 Name of Exam: Art of the Western World DSST
Number of Questions: Around 100 (varies)
Time Limit: 120 Minutes
ACE Recommended Passing Score: 48
Practice Test Available?: No
Cost: $80 + Sitting Fee (Usually no more than $20) at your testing site. Military can take DSSTs for free with Tuition Assistance. Check with your Educational Officer!
Difficulty 1-5 : 3
(One being the easiest, and five being the hardest)
Exam Description:
The Art of the Western World DSST covers what a student would learn during a single semester of a Western Art college course.
The exam covers many periods of art to include: Classical, Baroque, Rococo, Neoclassicism, and Romanticism. It also touches on Early Twentieth Century and Post World War II.
Personal Thoughts:
This exam doesn't get much play, and I have a feeling that's mainly due to the subject matter. Everyone that I've talked to who's taken this exam has a different opinion. Sooner or later I'll go take it myself to make up my own mind.
Some people say that the Art of the Western World DSST is extremely hard. Others say that as long as you study the material you'll do fine.
Both sides of the argument seem to agree that it's not so important to be able to identify the actual works of art. Rather you'll need to know what the artists for each time period specialized in. For example -
In what period did the artists live?
What technique did they use?
What materials did they like to work with?
Who influenced who?
I'm going to try and hit every period mentioned on the fact sheet below. I'll warn you now that there isn't much available for this exam. See below for the free resources that I've been able to find for the Art of the Western World DSST.
Exam breakdown:
Make sure you check out the Official DSST Fact Sheet for this exam.
Pay attention to the bottom of the fact sheet. It contains some sample questions that closely mimic the type of scenario-based questions you'll see on the actual exam.
The Art of the Western World DSST is broken down as follows:
| | |
| --- | --- |
| 13% | Post World War II |
| 13% | Rococo, Neoclassicism, and Romanticism |
| 13% | High Renaissance |
| 12% | Classical |
| 11% | Realism, Impressionism, and Post-impressionism |
| 10% | Early Twentieth Century |
| 10% | Baroque |
| 10% | Early Renaissance |
| 08% | Romanesque and Gothic |
Areas of Study
I'm going to list some specific topics that you'll need to study.
Though there are different versions of The Art of the Western World DSST, you'll most likely see some of the following on your exam:
High Middle Ages
Leonardo da Vinci
Surrealism
Michelangelo
italian and Austrian Artists
Art Nouveau
Dada
Picasso
Chiaroscuro
Ruben
Ingres
Roman Basilica
Boucher
Raphael
Delacroix
Cubism
Venetian Art
This is not a comprehensive list of topics! I highly recommend (as always) signing up for InstantCert and running through their entire flashcard series as well as seeing the Specific Feedback section for this exam. They've had years to accumulate their information, and it shows.
Recommended Free Study Resources
Recommended bargain-priced study resources
Always check your library first! You may be able to find some of these for free. You don't have to buy the officially recommended resources all the time. If you're the type of person that prefers to study from a textbook source however, then please see below.
Art History For Dummies (For Dummies (Lifestyles Paperback))
- If you want a book in your hands, this has gotten quite a few good reviews. Anything over 300 pages tends to intimidate me, so I like these books quite a bit. Probably a good starter for the Art of the Western World DSST.
Art of the Western World DVD
- I had to add this one because people have been writing to me and raving about it. If you learn best by watching instead of reading, by all accounts this DVD is a great study tool for the Art of the Western World DSST.
AP Art History w/CD-ROM (REA)-The Best Test Prep for (Test Preps)
- Another book that's gotten good reviews from the test taking crowd. While this is for the Art History AP, it covers much of the same material. If you find this at your local library, click on the Official Fact Sheet link above and hit each and every period it goes over.
Gardner's Art through the Ages: The Western Perspective, Volume I (with Art Study & Timeline Printed Access Card)
- One of the suggested materials from the Official Fact Sheet. This is one expensive book! See if you can find a used copy at a local textbook store, or even at your library.
InstantCert Academy The Art of the Western World Specific Exam Feedback - There's only one page for this particular exam, but as always it's full of feedback. As in... "I just got back from my exam and you'd better know A, B, and C when you take yours." They also have more suggested study resources in this thread. A great value.
If you don't know what InstantCert is, then click here for the scoop as well as a discount code: **InstantCert Academy**
You'll find an InstantCert link for every exam here if that gives you an idea of the amount of information they have available. It's an outstanding resource.
Closing Thoughts
To be honest, I get the impression that the grading curve on the Art of the Western World DSST is pretty forgiving. I haven't heard of anyone actually failing the exam, though some have come pretty close.
Here's my advice - If you're planning on taking this one, then I'd watch the videos in the free section first. Then go find a copy of the "For Dummies" book and read through that. If you can find the REA book, so much the better. After you've gone through those books, then watch the videos again and go take the exam.
That's probably overkill, but I always lean towards too much than too little. Either way, you can do it!
Good luck!
Return from The Art of the Western World DSST to
the DANTES Exams Page
Or, you can head back to the home page with the below link
Return from The Art of the Western World DSST to
the Free Clep Prep Home Page