Principles of Public Speaking DSST
A Free Study Guide!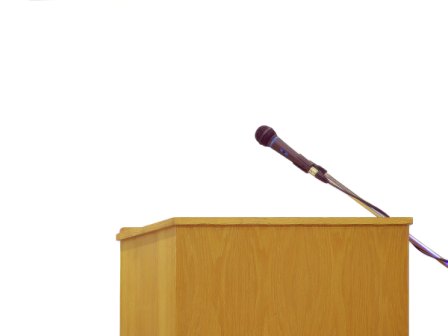 Name of Exam: Principles of Public Speaking DSST
Number of Questions: Around 75 (varies) + 1 speech
Time Limit: Part 1 (Questions) is Un-timed. Part 2 (Speech) is 15 minutes total. See below for details.
ACE Recommended Passing Score: 47 + pass speech portion
Practice Test Available?: Yes (See Below in Free Resources)
Cost: $80 + Sitting Fee (Usually no more than $20) at your testing site. Military can take DSSTs for free with Tuition Assistance. Check with your Educational Officer!
Difficulty 1-5 : 3
(One being the easiest, and five being the hardest)
Exam Description:
The Principles of Public Speaking DSST covers what a student would learn during a single semester of a college Speech or Communication class.
Specific topics covered include Creating and Structuring Introductions, Articulation, Listening Techniques, and Critiquing and evaluating the effectiveness in public speaking.
Personal Thoughts:
The Principles of Public Speaking DSST is probably one of the most confusing exams that Prometric offers. Though they do a great job of explaining what it consists of on the Fact Sheet; most people still get caught by surprise on the actual exam. The reason? Lack of preparing for that second portion - The dreaded speech.
Though the first portion (the Questions) aren't timed, the second portion (The Speech) is, and it's the part that most people run into problems. Here's the breakdown of how the speech portion works.
When you're finished with the question portion, the proctor will give you a specific topic (more on that later), and your intended audience. At this point, you get 10 minutes to write a 3-5 minute speech. If your speech comes in below 3 minutes, or above five minutes, you automatically fail the exam. Sounds pretty harsh at first, but it's actually pretty kind. They give you a whole minute and a half of wiggle room.
The speech itself is graded on a pass/fail basis. So as long as you make the argument convincing and keep within the time limits, you should be okay. We're going to cover the whole speech section a bit later on, but for now let's look at the Question portion of the exam.
Exam breakdown:
Make sure you check out the Official DSST Fact Sheet for this exam. No, seriously.. read the sheet. This is an exam that the Fact Sheet will help you out.
Pay attention to the bottom of the fact sheet. It contains some sample questions that closely mimic the type of scenario-based questions you'll see on the actual exam.
The Principles of Public Speaking DSST is broken down as follows:
| | |
| --- | --- |
| 18% | Structure/Organization |
| 15% | Content/Supporting Materials |
| 11% | Topics and Purposes of Speech |
| 11% | Language and Style |
| 11% | Delivery |
| 08% | Audience Analysis and Adapting |
| 08% | Criticism and Evaluation |
| 05% | Ethical, Historical, and Social Considerations of Public Speaking |
| 05% | Research |
| 05% | Listening and Feedback |
| 03% | Communication Apprehension |
Areas of Study
I'm going to list some specific topics that you'll need to study.
Though there are different versions of the Principles of Public Speaking DSST, you'll most likely see some of the following on your exam:
Analyzing the Audience
Feedback
Speaking Outlines
Speaker Credibility
Halo Effect
Gaining Audience Interest
Rhetorical Questions
Reinforcing Central Ideas
Types of Speeches
Using Statistics in Speeches
Delivery Cues
Argument and Reasoning
Question Portion of the Principles of Public Speaking DSST
We're going to do this study guide a little differently. Since the Principles of Public Speaking DSST is divided into two separate portions, we're going to do the same with the study guide.
First we'll cover the Question portion, as well as the resources that apply to those. Afterwards, we'll look at the Speech portion and go over some suggestions.
Recommended Free Study Resources
Speech Portion of the Principles of Public Speaking DSST
This is the section that most people need help with. I've given it it's own page to keep this study guide from becoming too long.
This speech study guide started out small, but quickly grew a life of its own. You can find that page here - How to Write a Speech for the Public Speaking DSST.
Recommended bargain-priced study resources
Always check your library first! You may be able to find some of these for free. You don't have to buy the officially recommended resources all the time. If you're the type of person that prefers to study from a textbook source however, then please see below.
The Art of Public Speaking, 9th Edition
- This is the textbook that everyone seems to be talking about for this exam. You can pick up a cheap used copy for less than $10 at the time of this writing. I'd recommend a college bookstore or library first though. Speech and Communication textbooks always seem to be in stock and you can usually get them for pennies on the dollar (or free if it's from the library).
Principles of Speech Communication, Brief Edition
- Another DSST recommended textbook. This one is over 10 years old and you can get it for less than a dollar. Watch those shipping charges on third party sellers.
InstantCert Academy Principles of Public Speaking Specific Exam Feedback - There's only two of feedback for this exam, but they are a good two pages. I wouldn't subscribe just to get access to this feedback, but if you're already a subscriber than by all means check it out. Check out the forum links in the free resources area for some other great feedback on this exam.
If you don't know what InstantCert is, then click here for the scoop as well as a discount code: **InstantCert Academy**
You'll find an InstantCert link for every exam here if that gives you an idea of the amount of information they have available. It's an outstanding resource.
Closing Thoughts
This study guide turned out to be a serious undertaking. Once you've covered the Question portion of this exam, I'd also look at the How to Write a Speech for the Public Speaking DSST page. We also have a small page full of example topics (not the real ones, but similar) so you can practice.
Best of luck!
Return from Principles of Public Speaking DSST to
the DANTES Exams Page
Or, you can head back to the home page with the below link
Return from Principles of Public Speaking DSST to
the Free Clep Prep Home Page